During the filmmaking process, using a variety of various lenses (Canon Fisheye Lens) can really affect how your audience views and interprets your scenes. Let's now discuss a really fascinating lens you might want to think about include in your toolbox: the fisheye lens. It's a rather special piece of gear since it may give the image a compelling, skewed perspective. Almost as if you were viewing your topic through the eyes of a fish, your subject takes on a distinctive aspect when you use a fisheye lens.
You might not come across this Canon Fisheye Lens too often in the world of filmmaking, but that doesn't mean you should underestimate its potential. In fact, the fisheye effect it offers could be just the creative touch your next project needs to stand out and make a lasting impression on your audience.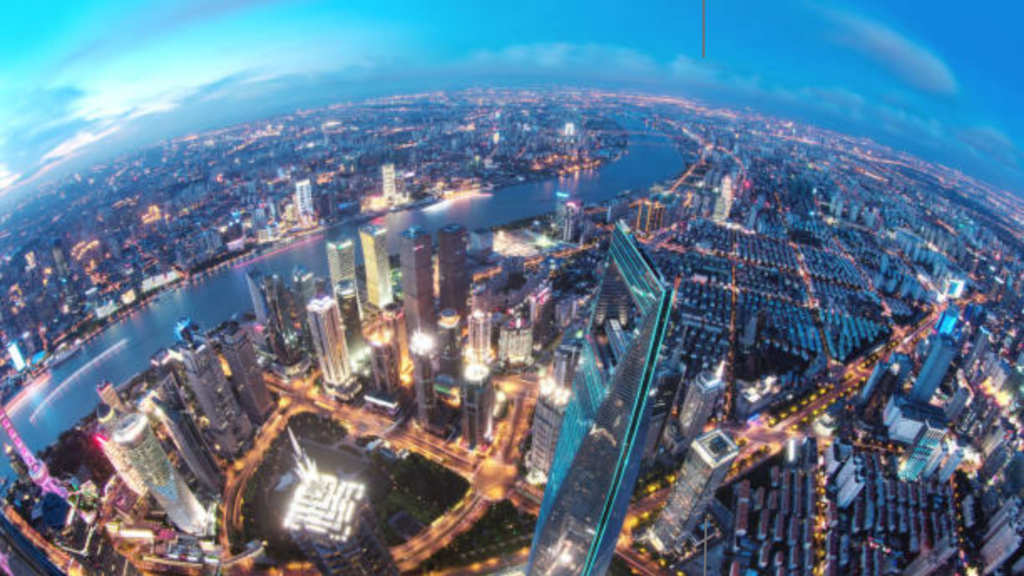 Table of Contents
What is a Canon Fisheye Lens?
A Canon fisheye lens is a wide-angle lens that provides circular images with exaggerated perspective and distortion. Fisheye lenses are also known as "super wide" or "ultra-wide" lenses. They are typically used in pairs to create a stereoscopic image for viewing on a circular screen. Such as canon ef 8-15mm f/4l fisheye usm lens is one of the best lens.
What are fisheye lenses good for in film?
For extreme sports
For creating the illusion that someone is staring through a peephole.
For scenes where a person is battling to stay awake or unresponsive
For simulating security footage
Purpose of a canon fisheye lens throughout history:
The first fisheye lens images appeared in 1906. Robert W. Wood, an inventor and physicist, created a lens that mimics how a fish would see the world while submerged in water. In the 1920s, the lens gained popularity when it was employed to analyse cloud forms in meteorology. The lens, however, didn't really become well-known until the 1960s. At this point, this specific lens was ultimately mass-produced.
In the 1966 John Frankenheimer film Seconds, you can see the lens in action.
Here are some Canon fisheye lenses:
RF5.2mm F2.8 L Dual Fisheye–
With the RF5.2mm F2.8 L Dual Canon Fisheye lens, your story will take on a completely new perspective. With the help of the EOS VR System, which consists of this Canon Fisheye Lens, an EOS R5 with firmware 1.5.0 or higher, and one of Canon's VR software programmes, you may generate immersive 3D content that can be seen on head mount displays like the Oculus Quest 2 and others. By merely turning their heads, viewers will be able to take in the picture with a vivid and expansive field of vision. The first digital interchangeable lens in the world that can record stereoscopic 3D 180° VR imagery to a single image sensor is this one. With only a simple lens change, producers may now go from ordinary stills or video shooting to stereoscopic 3D capture. High definition video recording at up to 8K DCI 30p and 4K DCI 60p is made possible by the combination of this lens and the EOS R5 camera. The dual high-performance L-series canon fisheye lenses merge imagery onto a single image sensor with a finely built folded optical architecture, producing stunning results in a single file. Through the removal of the requirement to sync and stitch several video files, this can streamline your production. Canon's EOS VR Utility software, which is a crucial component of the EOS VR System, makes it simple to convert video to the editing programme of your choice.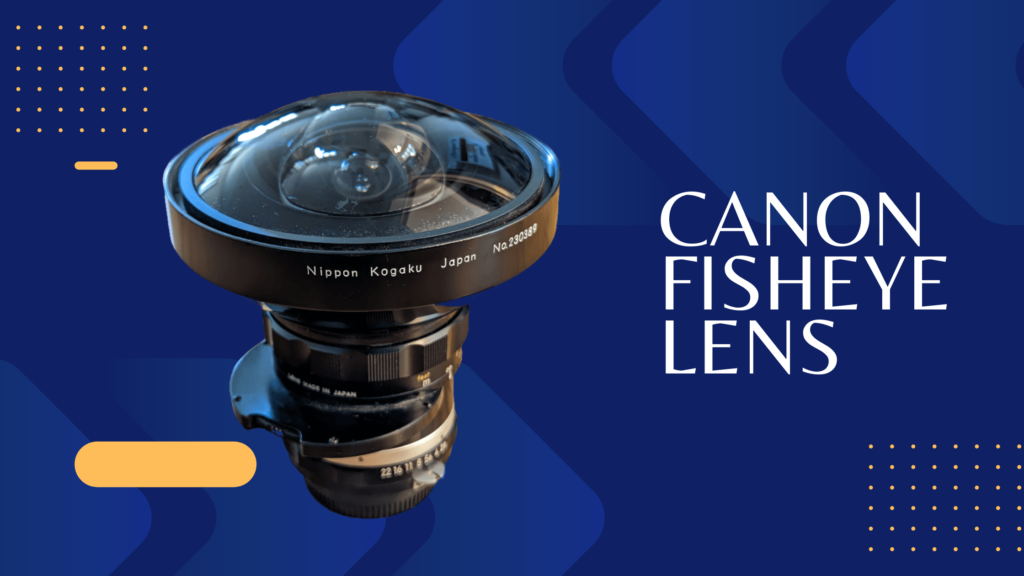 Technical Specifications Canon Fisheye Lens:-
Lens
Focal Length
Maximum and Minimum Aperture
Canon RF Mount
Baseline Length (distance between the centres of the left and right lenses) and Interpupillary Distance
Minimum Focusing Distance
Maximum Magnification
Angle of View (Diagonal)
5.2mm
f/2.8 – f/16 (1/3 stops, 1/2 stops)
Metal Mount
60mm
0.66 ft. (7.9 in.) / 0.2 m
0.03x
190° 00
Lens Construction (each lens)
Special Elements (each lens)-
Canon SSC (Super Spectra Coating) Canon SWC (Sub-wavelength Structure Coating)
Fluorine coating on the front element's surface Filter Size Diameter
Supported – Built-in
Aperture Blades (each lens) 7
Lens Switches None
Dust/Water Resistance Provided (rubber ring on lens mount)
Focusing System Manual focusing
Left/right focus difference adjustment
Adjustable by the user using the provided 1.5mm hexagonal wrench and adjustment dial
Dual Pixel CMOS AF Not Supported — Manual focus only
Focus Guide
With cameras outfitted with suitable firmware, alternate at picture centre of either selected lens UI by pressing the INFO button.
Manual Focus Peaking Supported with compatible cameras.
Full-time Manual Focusing Not Supported
Control Ring Not Supported
IS Mode Selection Not Supported
Optical Image Stabilization Not Supported
Dimensions (width x height x length) 4.8 x 3.3 x 2.1 in. (121.1 x 83.6 x 53.5mm)
Weight Approx. 12.4 oz. (350g)
CANON EF 8-15MM F/4L FISHEYE USM FISHEYE
A flexible canon fisheye zoom lens with an option of circular or full frame images. Even with such a wide field of view, the EF 8-15mm f/4L Fisheye USM, one of Canon's top performing L series lenses, produces stunning images
Benefits-
Full or circular frame zoom canon fisheye lens
Part of Canon's acclaimed L series
Durable and rugged design
Quiet and fast autofocus
Full-time manual focusing
Easier lens cleaning
Detailed Features:-
Circular or full frame Fisheye zoom lens-
When you have the EF 8-15mm f/4L Fisheye USM at your disposal, you don't need to spend money on two different specialised lenses. When used with cameras that have a 24x36mm (full frame) sensor, canon ef 8-15mm f/4l usm fisheye lens adaptable lens can produce both circular fisheye and full-frame photos. You can take full-frame fisheye pictures even if your DSLR has a smaller sensor.
This Canon Fisheye Lens is especially impressive because to its wide 180-degree diagonal field of view. It makes canon ef mm fl fisheye simpler than ever to capture the entire picture in a single, breath-taking image.
L-series quality
The apex of Canon's professional lens collection, the L-series represents the peak of meticulous engineering in EF optics. The outstanding performance and superb handling of these canon fisheye lenses, as well as their amazing endurance due to their resistance to moisture and dust, combine flawlessly.
Fast, quiet auto focus
Experience the convenience of swift and hushed auto focus with the inclusion of a ring USM (Ultrasonic motor).This ingenious technique uses ultrasonic frequency vibrations to enable blazingly quick auto focus while producing the least amount of noise possible. In addition to this amazing feature, the overall speed and effectiveness of auto focus is improved by a fast CPU and carefully calibrated AF algorithms.
Enhanced image quality with SWC coating
When it comes to creating stunning images in the digital sphere, Canon has a special response to offer. A surprising feature known as subwavelength structure coating (SWC), developed specifically to enhance image quality, has been launched.
Here's the deal: In digital photography, unwanted effects like ghosting and flare often creep in due to internal reflections within the Canon Fisheye Lens. Canon's SWC coating, a patented technology, comes to the rescue. What it achieves is quite clever; by reducing those bothersome reflections, it addresses the underlying cause of these problems. Your images end up being clear, sharp, and free of those annoying artefacts as a result.
Easier Canon Fisheye Lens cleaning
Compared to previous coatings, the fluorine coating applied to the front and back lens surfaces makes it easier to clean the Canon Fisheye Lens surface.
Canon 8-15mm f/4 L–
Let's have a closer look at the Canon EF 8-15mm f/4 L. This autofocus zoom canon fisheye lens offers various special advantages for your photos.
When you set it at 8mm on full-frame and 35mm cameras, you'll get a circular image that seems to float like a ball right in the center of a black frame.
Now, if you zoom in to 15mm on full-frame and 35mm cameras, you'll capture a captivating 180º corner-to-corner image with a curvaceous distortion that fills the entire rectangular frame.
No matter which Canon camera format you're using, including APS cameras like the Canon IX Lite, this versatile zoom Canon Fisheye Lens can serve as a full-frame fisheye. On a full-frame camera, it can neatly fit that circular image entirely inside the frame.
This 8-15mm lens excels in terms of sharpness. Surprisingly, it equals the clarity and control of lateral colour fringes of the previous Canon 15mm f/2.8 canon Fisheye lens at a focal length of 15mm. It's crucial to remember that this new 8-15mm lens offers no optical advantages over the older 15mm f/2.8 Fisheye if you don't need the smaller circular image effect in your frame or need rapid manual-focus control. In addition, the f/2.8 fisheye has the advantage of being a full stop faster, which might be helpful in some photography scenarios.
It's worth noting that almost nothing will be large enough to completely fill the frame of a fisheye lens, not even the entire sky.
The magic fluorine coating on this fisheye lens is a cool feature.
It's not just a gimmick; it genuinely repels fingerprints. And that's a big plus because anything on your fisheye lens will end up in your picture!
Compatibility and Formats of Canon Fisheye Lens–
This lens is tailored for 35mm film and full-frame digital cameras, and it's compatible with all 1.3x and 1.6x Canon cameras.
The Canon EF EOS 8-15mm f/4 is incredibly versatile in terms of compatibility. It's a perfect fit for every Canon EOS camera ever produced, spanning across the entire Canon DSLR lineup and every Canon autofocus 35mm camera manufactured since 1987. So whether you're using the latest 5D Mark III, the Canon 7D, or even an original Canon EOS 620 from way back in 1987, this lens has you covered.
Since it's designed as a full-frame lens, it can seamlessly integrate with all Canon SLRs, regardless of their format.
Specifications-
The EF 8-15mm f/4 L USM ULTRASONIC Fisheye Zoom Lens is what Canon calls it.EF stands for "electronic focus," indicating that the lens's internal autofocus motor is present. Since 1987, all Canon lenses have been EF.
Optics
14 elements in 11 groups. Some UD (low-dispersion) glass.
Aspherical elements.
(Identical to Nikon's Nano coating) SWC anti-reflection coating.
Front and back fluorine coatings for simpler cleaning.
The leading group zooms in and out.
Internal focus.
Focal Length 8-15mm.
Angle of view (on full-frame and 35mm cameras)
180º ~ 175.5º diagonal.
180º ~ 91.8º vertical.
180º ~ 142 º horizontal.
Close Focus 0.5 feet (0.15m) from the image plane, specified.
Maximum Reproduction Ratio 1:2.9 (0.34x).
Diaphragm
Focus Scale Yes.
The ring rotates in around 90 degrees, going from infinity to the closest focus distance.
Depth-of-Field Scale No.
Infra-Red Focus Indices
Yes, make a mark for an 8mm lens with an 800 nm wavelength.
Filters Rear gel slot.
Size Canon specifies dimensions of 3.1″ (78.5mm) in diameter by
3.3″ (83.0mm).
The leading group zooms in and out.
Nothing moves as focused.
Weight 19.140 oz. (542.65g), measured.
Canon specifies 19.1 oz. (540g).
EW-77 plastic hood weighs 0.485 oz. (13.8g).
Plastic front cap weighs 1.135 oz. (32.2g).
FAQ-
How do you get the fisheye lens effect on a Canon camera?
To get the fisheye effect on a Canon camera, you can try the following steps:
Change the camera to manual mode.
Press <Func Set>.
Under "Rec. Mode, Set shooting mode", choose the icon for Fisheye.
Press <Func Set> to confirm.
"Ultra wide" or "super wide" lenses are other names for canon fisheye lenses.. They are designed to capture very wide angles, usually 180 degrees. Fisheye lenses are popular for landscape, extreme sport, and artistic photography.
They are also used to photograph action sports like surfing, skateboarding, and snowboarding. The fisheye effect stretches an image around a circular camera lens, distorting it. This creates a wide-angle warping effect, also known as barrel distortion. The center of the frame appears to bulge outwards
What are the settings for fisheye lenses?
Fisheye lenses are designed to capture very wide angles, usually around 180 degrees. They are popular for landscape, extreme sport, and artistic photography.
Here are some settings for Canon fisheye lenses:
Focal length: 8–15mm
Maximum aperture: f/4
Focus: Both manual and autofocus
Minimum focusing distance: 6 inches
Compatibility: Full-frame, Canon EOS, Canon DSLR, and APS-C Canon cameras
Zoom fisheye lenses have smaller maximum apertures (f/4) but offer greater flexibility
A full-frame camera with an 8mm fisheye lens produces a circular fisheye, while a 15mm fisheye lens produces a diagonal fisheye
A 10mm fisheye lens produces a high degree of distortion
Canon's EF 8-15mm f/4L Fisheye Zoom is one option for full-frame cameras
To shoot with the fisheye effect, you can:
Change the camera to manual mode
Press <Func Set>
. Select the Fisheye icon from the "Rec." menu. Mode, Set shooting mode"
Press <Func Set> to confirm selection
How do you take good pictures with a canon fisheye lens?
Fisheye lenses are used for shooting extremely wide angles, typically 180 degrees. They produce images that appear distorted, giving them a more abstract yet dynamic aesthetic.
Here are some tips for taking good pictures with a canon fisheye lens:
Get up close to your subject. You might need to get 2 or 3 feet away from your subject, or even closer.
Shoot at a 1:1 aspect ratio.
Maintain a level camera to minimize distortion.
In the centre of the frame, place the horizon. This can make it less noticeable that you used a canon fisheye lens.
Use a smaller aperture, such as f/16, to yield a very large depth of field.
Slow down your shutter speed to about 1/25th of a second to create a unique radial blur.
Fisheye lenses have a short focal length. Because of this, you might still get a little bit of blur, but you likely won't be able to achieve total bokeh.
What shutter speed for a fisheye lens?
When using a canon fisheye lens, you can set your camera to manual mode and use a long shutter speed, often around 1/15s and beyond. You can also slow down your shutter speed to about 1/25th of a second to create a unique radial blur.
Here are some other tips for using a fisheye lens:
Shoot at a 1:1 aspect ratio
Get up close
Shoot low to the ground
Place your subject in the centre of the frame.
Be wary of the background
Experiment with story
Fisheye lenses have a short focal length, so shooting with a smaller aperture, such as f/16, will yield a very large depth of field.